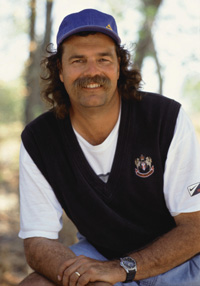 Caledonia Golf & Fish Club was one of nine design creations of the late Mike Strantz, who tragically passed away from cancer in 2005 at the age of 50 – but not before establishing an indelible legacy in a short amount of time, earning the honor from Golfweek Magazine in 2000 of being named as one of the "Top 10 Greatest Golf Architects of All Time."
Caledonia was the first Strantz design that quickly vaulted the Tom Fazio protégé to such elite status. A golf course design legend in his own right, Fazio had taken Strantz under his wing after the latter's graduation from Michigan State University in 1978, and quickly moved Strantz into on-site designer roles at several of Fazio's courses along the South Carolina coast.
As Strantz eventually moved on from Fazio's company, Caledonia Golf & Fish Club emerged as his first-ever solo project in 1993. The design quickly gained national attention for its expert integration with a stunningly beautiful Lowcountry setting, offering an unmatched combination of golfing challenge and breathtaking scenery that has had visiting golfers raving about their Caledonia experience ever since.
Its sister course, True Blue Golf Club, would join Caledonia five years later as it set up shop just around the corner. And while True Blue would rapidly become known as a bigger, bolder test of your golf game, Caledonia's special blend of Lowcountry appeal has endured now for a quarter century.
The national accolades have come from the game's most renowned standard bearers, including Golf Digest ranking Caledonia among its "100 Greatest Public Courses in America," Golfweek naming it among its "Top 100 Modern Courses" and "Best Resort Courses," and Golf Magazine rating it among its "Top 100 You Can Play."
On your next visit to Caledonia, you'll see for yourself what keeps visiting golfers religiously coming back, year after year – and exactly why Mike Strantz' design legacy has attained such elite status. We look forward to hosting you soon!